Well it seems that either I have no luck, or I have cursed with real bad tendons.
Friday while doing some boxing sparring at Bushido I tore my right bicep. I believe it to be a partial muscle and tendon tear judging by the pain and tenderness yesterday and today. But I will know more hopefully in the next few days.
I am really hoping it is just a muscle tear, as a tendon tear is a whole other big issue. I should know, 3 years ago I tore my LEFT BICEP tendon and had to undergo surgery. That was not fun, let me tell ya.
However since my surgery I have been training at a furious pace and with the exception of a tightness in my bicep tendon it hasn't really impacted my training.
Here are some stats & info on bicep tearing if you have any interest in this type of injury.
Bicep Rupture:
Rupture of the distal biceps tendon at the elbow joint is much less common and accounts for less than 5% of biceps tendon ruptures. This injury is also usually found in middle-aged patients, although not always. There is usually some degree of tendinosus, or degenerative changes within the tendon, that predisposes the patient to rupture of the tendon.
The significance of a distal biceps tendon rupture is that without surgical repair, patients who experience complete rupture of the distal biceps tendon will notice loss of strength at the elbow. The strength will affect both the ability to bend the elbow against resistance, and the ability to turn the forearm to the palm-up position against resistance (for example, turning a doorknob or screwdriver).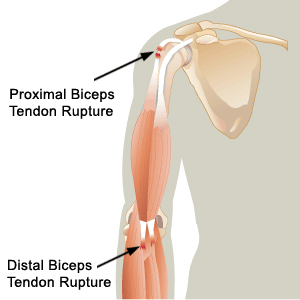 What are the symptoms of distal biceps tendon rupture?
Distal biceps tendon rupture is characterized by sudden pain over the front of the elbow after a forceful effort against a flexed elbow. Usually the patient will hear a snap and have pain where the tendon rupture occurs. Swelling and bruising around the elbow are also common symptoms of distal biceps tendon rupture.
What is the treatment of distal biceps tendon rupture?
Most patients will experience benefit if the biceps tendon is repaired surgically. If the tear is incomplete, or if the patient is very low-demand (not active), then surgery may not be needed. However, most patients who want more normal use of their arm will benefit from surgery to repair the ruptured tendon to the bone.
References:
Branch, GL. "Biceps Tenon Rupture" www.eMedicine.com 3/9/2005.
Scanlon, MW, et al. "Management of Distal Biceps Tendon Rupture" Osteo trauma care 2002; 10: 160-166.
var icpForm2209 = document.getElementById('icpsignup2209');
if (document.location.protocol === "https:")
icpForm2209.action = "https://app.icontact.com/icp/signup.php"; function verifyRequired2209() { if (icpForm2209["fields_email"].value == "") { icpForm2209["fields_email"].focus(); alert("The Email field is required."); return false; }
return true; }
Comments
comments