7 Tips To Write For Fitness Magazines & Websites
I grew up reading every single fitness magazine and book I could get my hands on.
Literally I would spend hours reading them from cover to cover and I read everything I could get my hands on.
Muscle & Fitness, Ironman, Flex, Black Belt, Men's Fitness, Men's Health, you name it I bought it and read it.
There were two magazines that were a big game changer for me.  Muscle Media 2000 & T-Nation (which I still have my printed copies of).
Growing up as a kid I dreamed of writing for these magazines and "Living The Dream".
I always tell my students at HWTC and my business coaching clients to "Dream Big" so now I am very proud to say I have written or currently write for a lot of the top fitness magazines and websites.
For anyone trying to "make it" in the fitness industry this is a big deal.
In the last two years I have been doing my best to "Get Comfortable Being Uncomfortable" and push my comfort zone and improve my craft.
I have gone from being a nobody in the writing world to really getting my articles and my name out there with some of the biggest sites and magazines in the world such as T-Nation.com, Men'sFitness.com, Schwarzenegger.com, MMASports Magazine, Muscle-Insider Magazine, and many others.
If I can do it, then you can do it.
I realized how fast things can change when you "do the right things" and get uncomfortable as just last monday I got my first article on MensFitness.com published and a week later it has well over 10,000 shares which is unreal.
You can check out the article "The No Sit Up Ab Workout" and you can check some of my other articles here.
If you are an aspiring writer here are
7 Tips To Help You Write For Fitness Magazines & Websites
1. Be Good At What You Do
Bottom line is this you have to be good at what you do.
Having a certification from a weekend course does not make you a fitness expert.  What makes you an expert is the non stop day in day out constant learning, constant improving and always doing your best.
You have to be good at what you do, you have to know your stuff, you have to get results and you have to always keep a beginners mind that you can learn more and improve.
No matter what you know there are experts who have forgotten more than you know, so stay humble, keep learning and be good at what you do.
2. Build Your Network
It's true what they say it's not always what you know it's who you know.
Always be getting to know people, connect with them, message them and say hi.  Just always be building your network.
With social media these days building an online network has never been easier  Everyone is literally a click away.
On my Facebook Coaching Page I literally am there every day just being myself, posting content, helping people, and having fun.  It's important to build your network because we are in the business of helping people so I want the fitness magazine editors to see that I have a network that I can send my readers to.
My 20,000 likes on Facebook may mean nothing to Men's Fitness Facebook page that has 2 million likes, but my network is important to me as it's my goal every day to educate, motivate and inspire others to do better.
3. Start A Fitness Blog
Starting your own fitness blog is essential.
You have to get your name out there, you have to show that you know your stuff, and you have to always have a vehicle to improving your craft.
When I first started my fitness blog people laughed at me.
Even better my martial arts "coach" if I can call him that actually was one of the people that made fun of me for starting a blog.
Getting bullied is never fun, even at the age of 35.
However I pushed through, I ignored the haters, I created my blog and it was one of the best things I have ever done for my fitness career and also just for feeling good, having fun, and writing and doing videos.
In 2013 my blog had over 1 million unique visitors.  Not bad considering it's only been online a few years.
Blogging is a lot of fun.  It's become like my online journal where I can share stuff about my career, my training, my travel.
Make sure you start a fitness blog.  With WordPress it's easy.
Also don't worry about making it perfect or spending a ton of money on design etc.
The key point is JUST GET STARTED.
4. Face to Face & Skin To Skin
Bottom line magazine editors get pitched every single day.  Their emails are bombed by people wanting to breakthrough.  99% of these emails will go unanswered and ignored.
The best way to breakthrough is to meet someone in person, shake their hand, introduce yourself, be genuine and be cool.
The main points here are face to face, skin to skin, and to be genuine and COOL.
Do not come up to someone and stalk them and in the first 5 seconds say "Can I Write For You".
BE COOL.
When I met a lot of the top people in the fitness industry I didn't have much to say because I was honestly so damn shy that I said nothing.  I just said hello and then followed up with a cool email.
For example Roman (aka John Romanello).
I met Roman many years ago at a fitness mastermind and honestly I was scared to talk to him.
The next meeting we are doing shots of tequila and hanging out.
A few months ago I even got a kiss from that handsome devil.
Life is good.
The point is that Roman was a very connected guy that has helped me a LOT to get where I am, but I was over a full year before I ever asked a favor or anything from him.
I just wanted to be cool, to get to know him, and to build a RELATIONSHIP with him.
This is a big thing that most people need to realize. it's all about the RELATIONSHIP.
So be cool, be yourself, and don't expect anything.
5. Know Your Readers
When you pitch a teaser or an article to an editor it's very important that you write for the readers of that magazine or publication.
The way I would write for T-Nation is not the same way I would write for Men's Fitness.  The readership may cross over but generally speaking the guy reading T-Nation is more than likely different than the guy reading Men's Fitness.  They both have fitness goals, but they both are at different levels when it comes to their goals and their knowledge.
It's very important to write in the manner, tone, and language of the person that is reading the publication.
If I was to pitch an article to Flex magazine it would read very different than an article for Men's Fitness.
Make sure that you write, read, re-read, and write for your audience, do not write for you.
6. Guest Blog Posts
A great way to get your name out there is to meet some of the top people who have the top fitness blogs.  Shake their hands, get to know them, be cool to them and then ask them if they would like a guest blog post with some amazing content for their blog that you would love to then share with your network.
I did this with my friends like
Bedros Keulian – 5 Steps To Running A Successful Body Transformation Program
Jason Ferrugia – 5 Ring Push Up Progressions
Dean Somerset – Back Friendly Leg Training
Bret Contreras- Top 10 Hip Thurster Variations
I honestly made it a goal to meet these guys, connect with them, learn from them, and said that a goal is to give them great content to help their readers.
Before I asked ANYTHING of them I just wanted to meet them, become friends, learn, pay my respect and then some.
In doing this it will open doors for you.  You get to know the top people in the fitness industry, you then get to move up the chain of getting your foot in the door with the top of the top.
This will give you LEVERAGE for when you pitch a teaser or article to a big fitness magazine or website.
7. GFGI
I tell my students this all the time.
GFGI GO FUKIN GET IT.
Make a list, set a goal, go meet the top people, and get uncomfortable and make it happen.
My first article I sent to T-Nation was absolutely ripped to shreds by a guy that i asked for help.  I literally cried and thought I should find something else to do.
Was this the answer I wanted?
NO!
But it made me improve my craft, my writing, my coaching, my blogging and it made me BETTER.
Never let anyone stop your dreams from happening and if this is your goal then it might take you six months to break through or six years, but you have to KEEP MOVING FORWARD.
Start writing, keep improving, keep learning, and if you want it to happen then make it happen and GFG
A BIG THANK YOU
I also wanted to send a big thank you to everyone that has helped me.
Martin Rooney, Daniel John, Dean Somerset, TC Luoma, Bret Contreras, Roman, Nick Tumminello , Ron Parham, Mike Simone, Bedros Keulian, Craig Ballantyne, Dax Moy, Chris McCoombs, Scott Welch, and MANY others along the way.
THANK YOU for allowing me to live out my dream.
If you want to write for the top fitness magazines and websites a A GREAT resource on getting your articles published is "Writing For Fitness" I highly recommend it.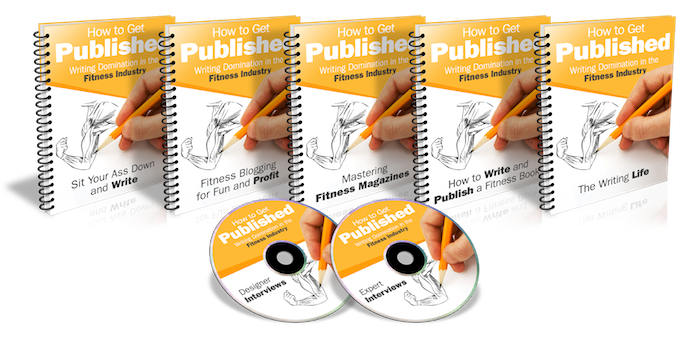 Comments
comments